How to DirecTV & Dish Network on 1 dish
In a space-limited apartment balcony installation, devise a way to get both Dish Networks programming (Standard & HDTV) and DirecTV (Standard & HDTV) with the least number of dishes and the most compact installation. Then, just for kicks, we added an extra LNBF to pick up the Canadian ExpressVu service on Nimiq 1.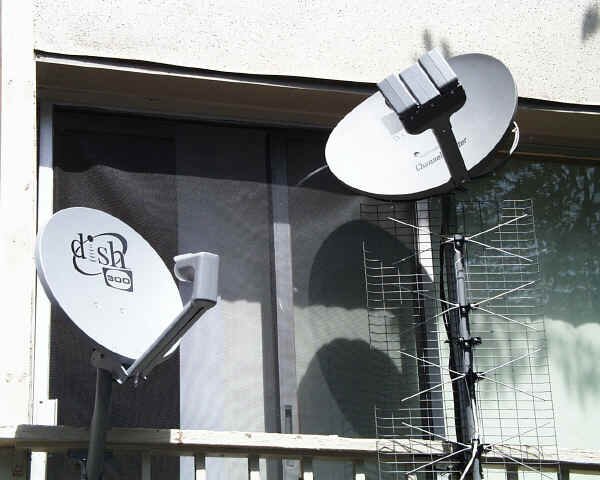 What we used:
1 – DirecTV 18″ x 24″ 'Para Todos' oval dish

4 – LNB's for oval dish (2 came with the dish and 2 were off-the-shelf replacement units)

1 – 4×4 multiswitch (included with para todos kit)

1 – 'Dish 300' with included LNB (you could also use a DirecTV 18″ dish & LNB)

2 – Satellite quality 2-way signal splitters (do not use cable or TV splitters) with power pass on one output only.

1 – Dish Networks SW64 powered switch

A few tie-wraps and some rubber weatherstripping

Lots of RG6 and F connectors to hook everything together
Here's the wiring diagram: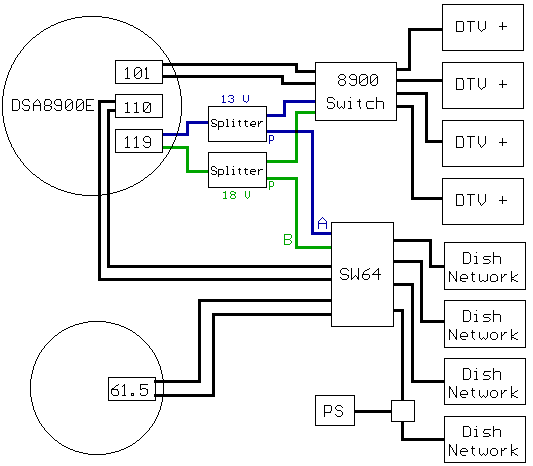 Note that the 8900 switch is the multiswitch that came with our DirecTV oval dish kit. It has 4 inputs and 4 outputs. The inputs are marked Sat A for the 101° satellite and Sat B for the 119° satellite. Each of the satellite's inputs is marked 13V and 18V. You must make sure that the splitter connected to the 18V connection is connected to 1B on the SW64 and that the 13V connection goes to 1A or it will not work correctly.
Let's start with the dishes:
The main dish we used is the DirecTV 'Para Todos' oval dish. This dish is sold as part of DirecTV+ systems which can receive secondary programming from the 119° orbital position (such as foreign language programming and local TV stations). 119 also has the 2 transponders where DirecTV broadcasts HDTV programming (HBO-HD and HDNET, a new HD sports network), so reception of this orbital spot is becoming a must for the DBS aficionado.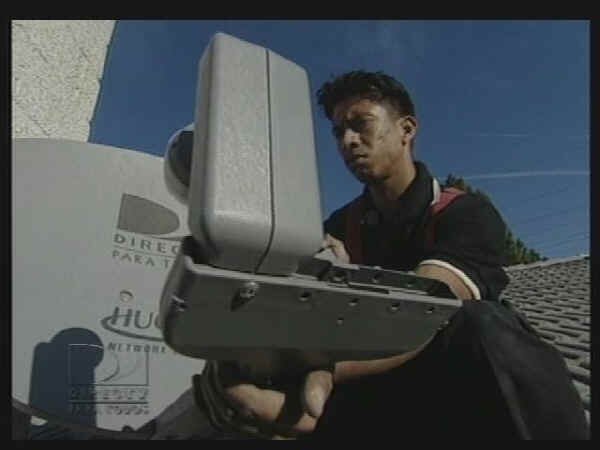 The interesting thing about the oval dish is that it is actually designed to accommodate 3 LNB's for reception of signals at 101, 110 and 119 degrees. By installing a LNB in each of the three positions, you will be able to receive the signals for DirecTV's 101 and 119 birds and Dish Network's 119 and 110 satellites.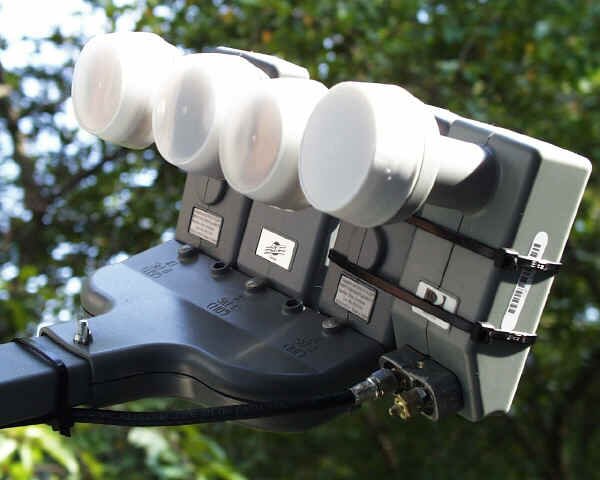 Here you can see our mounting arm with the Sat ABC LNB's installed plus an extra "addition" we installed just for the heck of it. The added unit picks up the Canadian Nimiq 1 bird that ExpressVu uses for its DBS service. Although this is a Canadian service, they use hardware from Echostar and we were able to connect a spare PRO301 IRD and get the barker channels, telling us we were locked in to the service.