Hybrid cloud is a cloud computing and cloud storage service where data is held offsite with the cloud provider and also allows for some data to be held locally. While an organization can opt to retain all its data on-site to remove security, availability, portability, performance as well as longevity concerns of a public cloud provision, it will prove to be more expensive to deploy and operate. Hybrid cloud offers organizations the best of both worlds by combining on-site data storage with public cloud storage and security.
Benefits of Hybrid cloud
Helps manage data growth
An organization manages its data growth whereby inactive data is offloaded from the premises. Also, back up and archive data are transferred to the public cloud provider.
Lowers data storage costs
Storing data with a public cloud provider is cheaper than hosting such data on-site as SSDs (solid state drives) deliver low-cost input/ output per second.
Streamlines data storage and management
With a hybrid cloud, primary, back up, snapshot, archive and offsite storage functions are converged into a single hybrid cloud storage solution where all storage functions are controlled centrally from an azure management portal.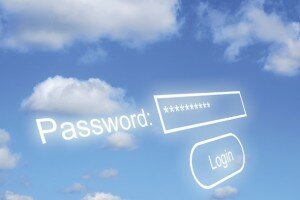 Boosts disaster recovery procedures
With this system, instant data discovery only downloads the data needed by applications which increases recovery time objectives. Data retention in this system is determined by software policies and not the capacity or tape rotations of the backup system. Hybrid cloud storage makes it possible for disaster recovery testing without unnecessarily disrupting daily routine operations of an organization. As well, data held offsite can be easily accessed from other sites for data migration and recovery purposes.
Challenges
The biggest challenges to hybrid cloud computing lie with the public cloud provider. When an organization moves data to a public cloud, they essentially trust the cloud provider with the responsibility of data security, confidentiality, compliance and efficient delivery. If any of these areas is compromised, the result can be disastrous. To minimize these effects, an organization needs to proceed with caution. They need to carry out a data classification. Through this, they will identify data that is critical and sensitive which should be retained onsite. The other data such as archiving, e-mail, back up, collaboration, workspace recovery data together with commodity-based and tactical services can be transferred to a public cloud.
As the cloud computing and storage offering matures, there might be the possibility of a "cloud first" approach to data management without risking the aforementioned areas but as things are, hybrid cloud the best way to go.
In a space-limited apartment balcony installation, devise a way to get both Dish Networks programming (Standard & HDTV) and DirecTV (Standard & HDTV) with the least number of dishes and the most compact installation. Then, just for kicks, we added an extra LNBF to pick up the Canadian ExpressVu service on Nimiq 1.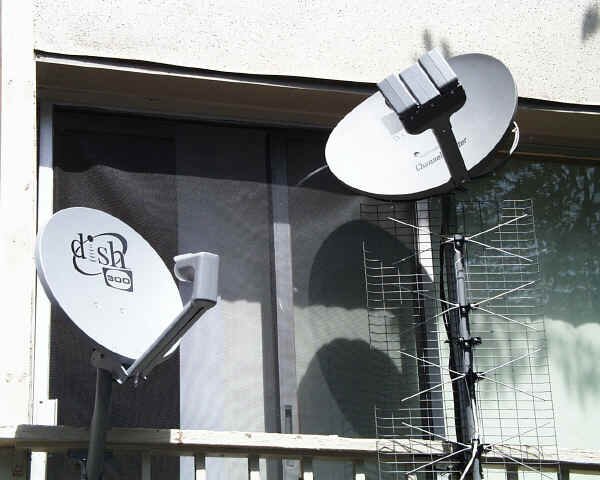 What we used:
1 – DirecTV 18″ x 24″ 'Para Todos' oval dish

4 – LNB's for oval dish (2 came with the dish and 2 were off-the-shelf replacement units)

1 – 4×4 multiswitch (included with para todos kit)

1 – 'Dish 300' with included LNB (you could also use a DirecTV 18″ dish & LNB)

2 – Satellite quality 2-way signal splitters (do not use cable or TV splitters) with power pass on one output only.

1 – Dish Networks SW64 powered switch

A few tie-wraps and some rubber weatherstripping

Lots of RG6 and F connectors to hook everything together
Here's the wiring diagram: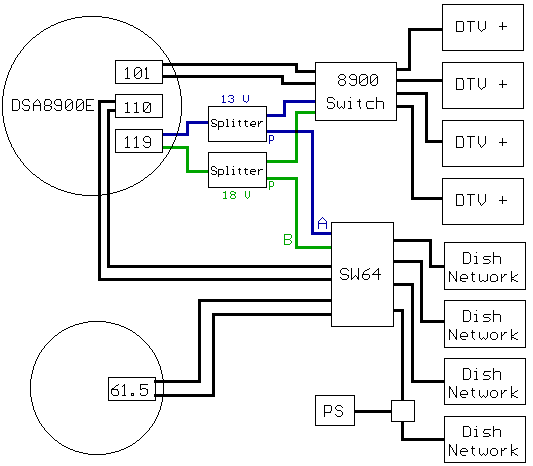 Note that the 8900 switch is the multiswitch that came with our DirecTV oval dish kit. It has 4 inputs and 4 outputs. The inputs are marked Sat A for the 101° satellite and Sat B for the 119° satellite. Each of the satellite's inputs is marked 13V and 18V. You must make sure that the splitter connected to the 18V connection is connected to 1B on the SW64 and that the 13V connection goes to 1A or it will not work correctly.
Let's start with the dishes:
The main dish we used is the DirecTV 'Para Todos' oval dish. This dish is sold as part of DirecTV+ systems which can receive secondary programming from the 119° orbital position (such as foreign language programming and local TV stations). 119 also has the 2 transponders where DirecTV broadcasts HDTV programming (HBO-HD and HDNET, a new HD sports network), so reception of this orbital spot is becoming a must for the DBS aficionado.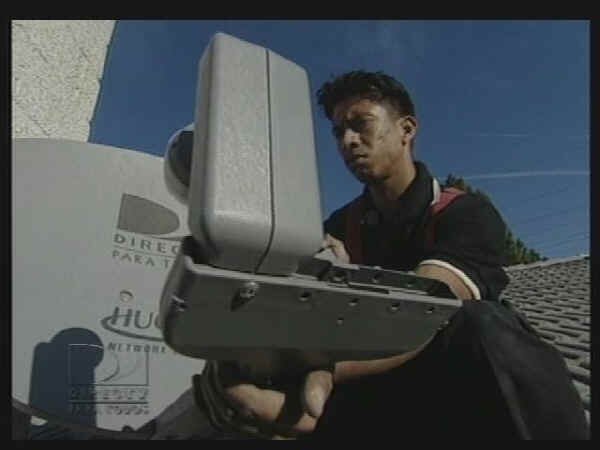 The interesting thing about the oval dish is that it is actually designed to accommodate 3 LNB's for reception of signals at 101, 110 and 119 degrees. By installing a LNB in each of the three positions, you will be able to receive the signals for DirecTV's 101 and 119 birds and Dish Network's 119 and 110 satellites.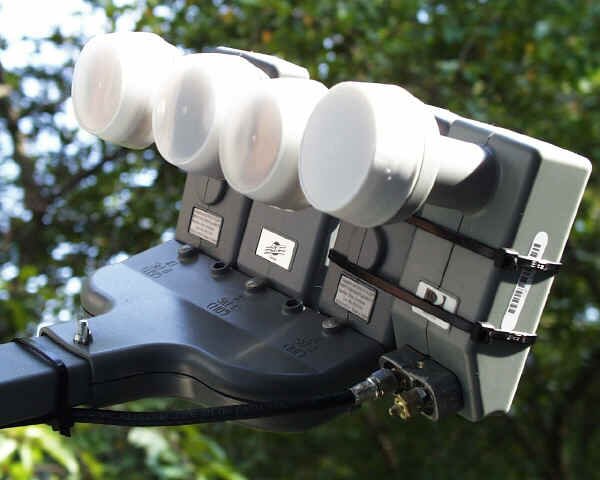 Here you can see our mounting arm with the Sat ABC LNB's installed plus an extra "addition" we installed just for the heck of it. The added unit picks up the Canadian Nimiq 1 bird that ExpressVu uses for its DBS service. Although this is a Canadian service, they use hardware from Echostar and we were able to connect a spare PRO301 IRD and get the barker channels, telling us we were locked in to the service.